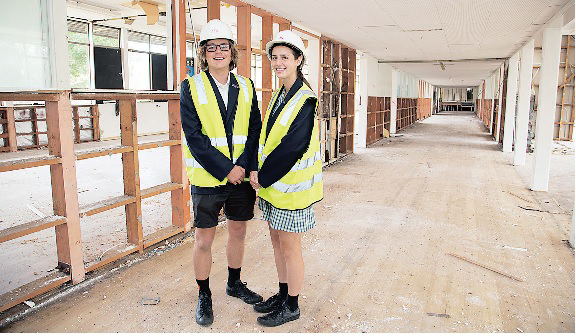 18 Jun

PSC $2 million Facelift

Portland Secondary College is one step closer to a state-of-the-art facility with a major modernisation project officially underway.The secondary college received $2 million from the Victorian Government in the 2016-17 state budget, as well as $193,000 in the 2017-18 budget, to build new modern learning spaces, teacher offices and infrastructure.Principal Toni Burgoyne said it was exciting to see the project begin."We're ahead of schedule, which is very pleasing," Ms Burgoyne said."The refurbishment will update the learning and teaching facilities, with teaching teams embedded in the new area."The renovations are set to finish my mid-November, and we plan on moving our Year 7 and 8 students into the new space at the end of the year, ready for the 2019 school year."I'm pleased with the progress and happy to hear that David Nock and the team at 1:1 Architects are engaging with local tradespeople."Ms Burgoyne said planning for the new space involved the whole school community."We sent a team of students, parents and teachers to a number of schools for inspiration."Not only did it help with planning for the refurbished space, but it assisted us in reforming the current sub-school set-ups."The new area will focus on the junior sub-school, with Year 7 and 8 students spending most of their core schooling in the new flexible learning space.Mr Nock, the director of 1:1 Architects said his firm has a specific aim for the modernisation project."The vision for this renovation was to create a neighbourhood hub for the junior school, to enhance the transition from primary to secondary and to springboard the kids into their secondary education," Mr Nock said.

Photo courtesy of Portland Observer.

To download a copy of this article click here.